Angelique
Brigitte Bardot as Angélique in French Movie
Brigitte Bardot as Angélique
Brigitte Bardot said;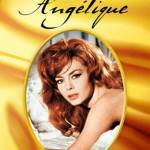 Brigitte Bardot had refused to film the adaptation without even having glanced at it.That teach her to not make hasty final judgments! She threw herself body and soul into the thrilling adventures of the exceptional Angélique, who was consequently played superbly by Michele Mercier.
The potential for turning the Angélique books into movies was first realized in the 1960s when five French language films based were released.
Starred Michèle Mercier, a young but experienced actress from Nice, as Angélique, and Robert Hossein as Joffrey de Peyrac.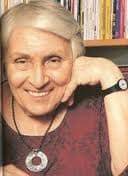 The films are still shown regularly on TV in French-speaking countries as well as in Italy, Japan and Russia. It has to be said that Anne Golon has stated that she was not satisfied with the end result.In a recent interview she explained that she hopes to see new versions of the books dramatized for the screen, and revealed:
"In those films Angélique is written to be like Michèle Mercier, and not like she really is. So I would like to see a film with the real Angélique.
"One of my wishes is to see the film made the way Angélique was, because in the first films, Michèle Mercier was chosen because she was the girlfriend of the director.
Angelique written by:
Sergeanne Golon ( Pen Name )
Real name is Anne Golon
320 publishers in 63 countries
sold 150 million-plus books!
Amazing, isn´t it? The first book was published in 1957.
The Angélique films should be remade, she said, "by people who love it and understand it".
I have always had Brigitte Bardot in my mind as playing Angelique, though, when I read the books. It is a classic love-passion and gripping adventure story.They're really good. Well-written and researched.
Short review:The Angélique story takes its readers to three main geographical areas, beginning with France – centered mostly on the western province of Poitou, the Palace of Versailles, the outskirts of Paris and the city itself.
Angélique: Marquise of the Angels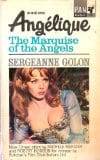 Province of Poitou, the Palace of Versailles, the outskirts of Paris and the city itself.
The story begins in 1648.All starts when Angelique is a twelve-year-old teenager. She is forced to marry with Joffrey ( Comte de Peyrac de Morens, Lord of Toulouse ) Joffrey is twelve years older than her, disfigured, lame, and has a reputation as a magician with a penchant for dissolute habits, Angélique reluctantly agrees to marry him for the sake of her family.She is then married but is determined to kill herself rather than submit to the embraces of such a monster.
Angélique gradually realises the true depths of this remarkable, mystic man – Joffrey is a poet, artist, scientist, raconteur, swordsman..
Angélique realizes she loves him and becomes threatened by the artifices of the Archbishop of Toulouse, who believes Joffrey is an alchemist. [ discovered the secret of the transmutation of gold ]
Joffrey is arrested and disappears. As evil forces try to separateJoffrey.
Angelique risks everything to save him placing her trust in a poverty-stricken lawyer who is the only one who will take Joffery's case. Angelique get a son, the traumatic birth of Joffrey's son, Cantor.
Angélique: The Road to Versailles
Desolate, penniless and alone in the streets of Paris, Angélique is obsessed with revenge.After falling in with a band of the cutthroats and beggars that infest the Paris underground Angélique discovers their leader is her old childhood friend Nicholas, who promises to kill Conan Becher, the man who helped destroy Joffrey.Angélique becomes Nicholas' mistress and lives a life of degradation in the Paris.
Angélique and the King
Is perhaps the book of most interest to students of 17th Century French history as it contains a wealth of historical detail. All meticulously researched and brilliantly woven into the story.
Angélique has already known great love, great loss, trauma, poverty and violence, but her heart is still empty.
Through a series of adventures, the King becomes increasingly enamored of her, but the book is also heavily concerned with the ambivalent relationship between Angélique and Marquis Philippe du Plessis Bellerive.Fate is also waiting to deal Philippe a heavy blow, while Angélique is summoned back to Versailles where she wins powerful friends and enemies.
As she finds herself increasingly attracted by the power of the throne, however, she is faced with a decision that will make the difference between winning the love of the King and becoming an outcast once again…
Angélique and the Sultan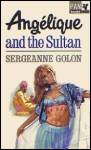 Angélique embarks on a series of adventures around the Mediterranean, Barbary Coast of North Africa.
Angélique leaves France against the King's wishes. Angélique saw the possibility of a reunion with Joffrey and intends to sail to the Greek island of Crete.
Angélique falls under the control and influence of men and endures various mental and physical challenges, also as being sold as a slave at Candia , Crete.
Angéliques problems are far from over when she is presented as a gift to Mulay Ismail, Sultan of Morocco and imprisoned in his harem – but Angélique hatches a daring plan to escape.
Angélique in Revolt

The rising tide of religious intolerance in a Catholic country is the theme running through the fifth and perhaps most disturbing book in the Angélique series.
Angélique entangled in rebellion as the Protestant Huguenots rise up against their Catholic repressors. She is also at direct odds with the King, refusing to make her apologies and determined not to return to Versailles as his mistress.
The political situation is destined to bring multiple tragedies for Angelique and, after enjoying a moment of revenge, finds that she is pregnant with an unwanted daughter.
Angelique helps one of the leaders of the community flee, she discovers that she has been the victim of a cruel betrayal…
Angélique in Love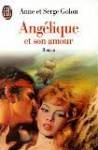 Angélique heads for the new lands of America for the first time. Her adventures, however, are naturally far from over.
Forced to flee her homeland to escape the wrath of the King of France, even as she sails Angélique finds her loyalties are torn once again.
She is reunited with Rescator, but when she uncovers his unbelievable secret she must overcome a confrontation that puts her whole future in jeopardy.
Angélique realizes she must fight for what is hers – and the stakes are very high indeed.
The Countess Angélique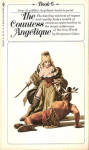 Angélique faces a new series of challenges in the wilderness of North America, – some of which surely test even her ingenuity and experience.
Angélique reunited with Joffrey and her sons, but they are forced into a dangerous gamble in order to find a way out of their troubles.
First hunger and then a fanatical Jesuit threaten Angélique's very existence before rumors begin to spread that Angélique is a mythical she-devil.
Even her love for Joffrey is put to the test following the schemes of their enemies.
Once again, Angélique has to call on all her qualities in order to triumph.
The Temptation of Angélique

Angélique is separated from Joffrey by the scheming of Sebastien d'Orgeval, the Jesuit mastermind, and finds herself caught in the hostilities between the Indians and their English enemies. She eventually heads for home and another reunion with Joffrey, but after coming close to a watery death, she comes under the power of another Jesuit priest.
Angélique and the Demon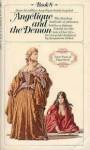 Angélique is denied the peace of mind she has longed for when the beautiful but unsettling Ambrosine (Duchess de Maudriborg )and her entourage of King's girls are shipwrecked on the shores of Goldsboro.
Angélique is threatened by strange forces and by a mysterious band of pale strangers creating discord and mayhem in the region.
Angélique and her friends combat poison, skulduggery and treachery as she battles for the life of her closest friend Abigail who is awaiting the birth of her first born.
Unsure of love, not knowing whom to trust and fearful for the safety of her children and friends, Angélique must discover the ringleader of the evil that threatens them before it is too late.
Angélique and the Ghosts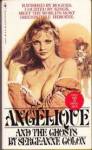 Angélique, overjoyed to be reunited with her true love, Angélique places the familiar decks of the Goldsboro on its journey towards Quebec.Angélique must again risk betrayal in order to cement her position as joint leader of an independent stronghold between two warring powers.As they invade the king's fiefdom, Angélique, still an outlawed woman in France, is anxious, sensing a plot.
Failing attempts on new friends, she encounters a figure from her past – one who brings with him echoes of shadowy ghosts, manipulating events from afar.
Events march steadily towards a climax as Angélique progresses up the freezing estuary to her destination.
Angélique stands on the outskirts of a bustling French community for the first time in fifteen years – the cloistered and claustrophobic capital of French Acadia, Quebec.
Angélique survives, but only to find Joffrey angry and ready for a deadly duel with Gold Beard…
All Books – Collection
Book 11 – 15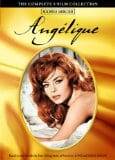 Waiting have  lasted 23 years, but it seems that there is light at the end of the tunnel with plans to not only re-publish the existing English language titles but the unpublished trio and subsequent books too.