Birth name: Brigitte Anne-Marie Bardot
Born: 28 September 1934 at 13:15 (= 1:15 PM )
Timezone: GDT h1e (is daylight saving time)
Place: Paris, France
Nickname: B.B (family nickname on her)

Born to Louis Bardot (1896-1975), nicknamed Pilou, who graduated from an engineering school to go into the family business, which manufactured liquid air and acetylene, and Ann-Marie Mucel (1912-1978), nicknamed
Toty, her parents married in 1933. Toty had studied theater and dance as a young lady, while Pilou wrote poetry in his notebook and published several volumes.
Brigitte Bardot Biography
This is Brigitte Bardot Biography. Named Brigitte Bardot Bio. You will not find every story on this page, but I am sure you will find something for you here. Introduction to Brigitte Bardot Biography I have a YouTube Video for you. My aim is to create part 2.
Ballet Dancer and a Modeling Career
Brigitte Bardot was born on September 28, 1934, in Paris, France. In her early life, Brigitte Bardot was an aspiring ballet dancer.
Brigitte's mother, Ann-Marie, encouraged her daughter to take up music and dance, and she proved to be very adept at it.
She had taken dancing lessons from age 5, and when she was 13 one of her classmates in dancing class was Leslie Caron.
Studying under Russian choreographer Boris Knyazev for three years; she was later accepted as a student of Paris' Conservatoire National Supérieur de Musique et de Danse in 1947.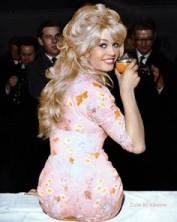 Like many Hollywood stars Brigitte Bardot was born brunette. Brigitte Bardot in her first film as a blonde, 1955's The Bride is Too Beautiful. She keeps her blond dyed hair rest of her career, because she loves it.
Brigitte was trying a modeling career and found herself in the French magazine "Elle"

.
Brigitte Bardot as baby and teenager – Gallery
Acting Career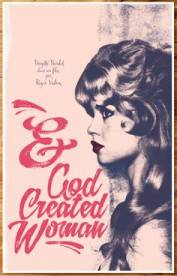 Brigitte Bardot started her acting career in 1952 and, after appearing in 16 films.

She became world-famous due to her role in her then husband Roger Vadim's controversial film And God Created Woman.

Brigitte starred later in Jean-Luc Godard's 1963 cult film, Contempt.

She was nominated for a BAFTA Award for Best Foreign Actress for her role in Louis Malle's 1965 film, Viva Maria.

She caught the attention of French intellectuals. She was the subject of Simone de Beauvoir's 1959 essay, The Lolita Syndrome, which described Bardot as a "locomotive of women's history" and built upon existentialist themes to declare her the first and most liberated woman of post-war France.

Brigitte Bardot retired from the entertainment industry in 1973. During her career in show business
Brigitte Bardot starred in 47 films, performed in numerous musical shows, and recorded 80 songs.
Brigitte's Explosive Sexuality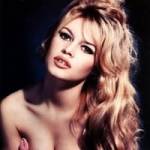 Brigitte Bardot's explosive sexuality took the the US by storm. The effect Brigitte had on millions of American men, whom hadn't seen a woman like her in a long, long time,
if ever–was electric. Took the US by storm.

Brigitte Bardot's explosive sexuality is being unlike anything seen in the US since the days of the "flapper" in the 1920s.

Rise to the phrase "sex kitten" and fascination of her in the US consisted of magazines photographs and dubbed over French films–good, bad or indifferent, her films drew audiences–mainly men–into theaters like lemmings.
In 1965 she appeared as herself in the American-made Kära Brigitte (1965) with James Stewart.
Music – Song Records and Musical Shows
The first "Brigitte Bardot" song was released by Achilles and his Heels on the Fontana label in 1961. Indie singer Jordan Galland also has a song called "Brigitte Bardot".

She participated in various musical shows and recorded many popular songs in the 1960s and 1970s, mostly in collaboration with Serge Gainsbourg, Bob Zagury and Sacha Distel.

Songs like "Harley Davidson", "Je Me Donne A Qui Me Plait", "Bubblegum", "Contact", "Je Reviendrais Toujours Vers Toi", "L'Appareil A Sous", "La Madrague", "On Demenage", "Sidonie", "Tu Veux, Ou Tu Veux Pas?", "Le Soleil De Ma Vie" (the cover of Stevie Wonder's "You Are the Sunshine of My Life") and notorious "Je time… moi non plus".
Brigitte Bardot and her Marriages
Roger Vadim
Roger Vadim (20 December 1952 – 6 December 1957) (divorced).Roger Vadim was born on January 26, 1928, in Paris, France as Roger Vladimir Plemiannikov.
He was a writer and director. Her incredible beauty readily apparent, Brigitte next tried films. In 1952 she appeared on screen for the first time as Javotte Lemoine in Le Trou Normand (1952). Two more films followed, and it was also the same year she married Roger Vadim. The two had known each other years earlier, and she wanted to marry him when she was 17, but her parents quashed any marriage plans until she turned 18. The union lasted only five years. Capitalizing on her success in French films, she made her first US production in 1953 in Möte med kärleken (1953) with Kirk Douglas, but she continued to make films in France.
After five years they divorced but remained good friends and continued working together. After the divorce, Brigitte had a relationship with the actor Jean-Louis Trintignant, and they lived together for two years.
Brigitte Bardot and Gunter Sachs Gallery
Jacques Charrier
Jacques Charrier (18 June 1959 – 20 November 1962) (divorced) 1 child, Nicholas-Jacques Charrier (b. 11 January 1960)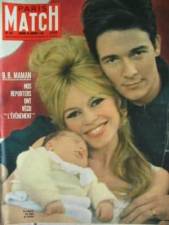 Her personal life again tumultuous – her marriage to Charrier was much publicized, and the pair was constantly hounded by paparazzi – Brigitte Bardot hit yet another low point emotionally.

On her 26th birthday, she attempted suicide for the second time during production on Henri-Georges Clouzot's crime drama "La Verite" ("The Truth") (1960).

Brigitte Bardot completed the film, which became one of the highest-grossing films in France the year it was released and was nominated for an Academy Award for Best Foreign Language Film. Bardot's personal life proved to be less successful – her marriage to JacquesCharrier ended in divorce in 1962 and her son, Nicholas, was raised by the Jacques Charrier family following the divorce.
Brigitte Bardot and Jacques Charrier Gallery
Gunther Sachs
Gunther Sachs; self-styled international playboy; married on July 14, 1966; divorced in 1969.
They married in 1966 in an eight-minute ceremony in Las Vegas, just weeks after they met.He said after they first met in a restaurant: 'It was love at first sight, and when we spoke, it was as though lightning had struck. Gunther Sachs said;

I knew the minute I saw her, I was going to marry her.

He was so mesmerized by her beauty that the next day he paid for a helicopter to hover over her Saint-Tropez home and shower the garden with thousands of red roses. Gunter married BB two months later.

Days after the wedding, Brigitte Bardot cheated on him with the musician Mike Sarne.
Ten years after they divorced, he gave Brigitte Bardot a diamond ring worth 1.2 million francs.
As he said:
"A year with Brigitte Bardot was worth ten with anyone else."

Gunther Sachs
Gunter Sachs was the great-grandson of Adam Opel, the founder of the Opel car company and was born into the wealthy industrialist family in 1932.He used his inheritance and business acumen to fund a glamorous lifestyle that fascinated many in post-war Germany of the 1960s and 70s and was a high-profile member of the 'jet set.' He once boasted of 'never having worked a day in my life.' You will find here!
Brigitte Bardot and Gunter Sachs Gallery
Bernard d'Ormale
Bernard d'Ormale ; For the last 15 years (married since August 16, 1992)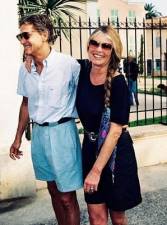 Brigitte Bardot lived outside Paris with her fourth husband — right-wing politician Jean-Marie Le Pen's longtime adviser — Bernard d'Ormale.

"But word is they have separated, and that's why she moved back to St. Tropez"( New York Post, May 2010). Brigitte Bardot is living with her menagerie of animals at her island estate.
She lost favor with many French people after marrying Bernard d'Ormale, a former adviser to the far-right Front National, in 1992.
Brigitte supported the FN leader Marine Le Pen in the 2012 French presidential election.
Brigitte Bardot Child
Nicolas-Jacques Charrier
Nicolas-Jacques Charrier; born 11 January 1960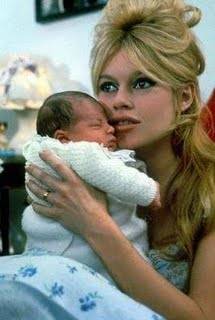 Nicholas was raised by his father's family after her divorce from his father Jacques Charrier in 1962.

Brigitte Bardot has two granddaughters from his son Nicolas's marriage to Anne-Line Bjerkan, daughter of a Norwegian diplomat: Anna Camilla (born in 1985) and Thea Josephine (born 1990).

Nicholas, 19-year-old in the left photo. He looks like his father Jacques Charrier.
Anna Camilla dealing mainly with real estate and general contract law. She have an Education in Master of Laws, University of Bergen, 2010
Thea Josephine is a model. You can see her here in Pinterest, Design: Sidsel J. Høivik
Brigitte Bardot son Nicolas-Jacques Charrier Gallery
Brigitte Bardot was named a Chevalier of the Légion d'Honneur in 1984 for her activism on behalf of the humane treatment of animals. She felt that it was wrong to accept the award from a government that allowed cruel and inhumane treatment of animals.
Animal Rights Activist
"All my life…I was never what I wanted to be, which was frank, honest, and straightforward. I wasn't scandalous — I didn't want to be. I wanted to be myself. Only myself."
Just before Brigitte Bardot turned 40, Brigitte retired from movies after filming L'histoire très bonne et très joyous de Colinot Trousse-Chemise (1973).
She prefers life outside of stardom. While it enabled her to become internationally famous, it also carried with its annoyances.

It wasn't anything for her to have "fans" enter her house or wander around the grounds of her home in the hopes of getting a glimpse of her or to take something that belonged to her.
Paparazzi constantly hounded her with their cameras.Brigitte became a vegetarian and raised three million French francs to fund the foundation by auctioning off jewelry and many belongings.
She prefers life outside of stardom. While it enabled her to become internationally famous, it also carried with its annoyances. It wasn't anything for her to have "fans" enter her house or wander around the grounds of her home in the hopes of getting a glimpse of her or to take something that belonged to her. Paparazzi constantly hounded her with their cameras.Brigitte became a vegetarian and raised three million French francs to fund the foundation by auctioning off jewelry and many personal belongings.
She has been so soft-hearted that some people even have taken advantage of her generosity. After her life in the spotlight, Brigitte went on to become a leading spokesperson for animal rights and started the "Foundation Brigitte Bardot" dedicated solely to that cause. Her work in that realm is, perhaps, far greater than any film she could have made.She and became politically active about animal rights. She stays in contact with Captain Paul Watson, keeping abreast of the Sea Shepherd missions (one of the boats is named for her) and has written the French government regarding Japanese whaling and the issues of slaughterhouses.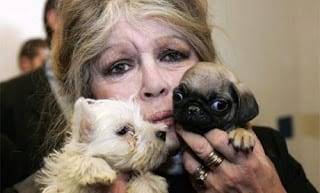 In 1999 Bardot wrote a letter to Chinese President Jiang Zemin, published in French magazine VSD, in which she accused the Chinese of "torturing bears and killing the world's last tigers and rhinos to make aphrodisiacs." She has donated more than $140,000 over two years for a mass sterilization and adoption program for Bucharest's stray dogs, estimated to number 300,000.
She has also, perhaps somewhat scandalously, contacted Russian prime minister Vladimir Putin, who considers Brigitte Bardot his favorite actress, to thank him for his work on behalf of wolves and for banning the sealskin trade. It's no surprise that some have questioned her connections with politicians, but she shrugs them off.
"I am not playing political games," she says. "I don't care.I don't bother with that. I belong to no party, and I am militant for no one. All of my causes, including the most radical, are motivated by the defense of animals. I don't care about looking conservative and awkward. I'm only looking to assuage my soul and protect the animals."
During the 1990s, she became controversial due to her criticism of immigration, race-mixing, some aspects of homosexuality and Islam in France, and has been fined five times for "inciting racial hatred."
Tribute to Brigitte Bardot and her fondation protecting animals rights
"I don't feel old or used up," she says, "and I don't have time to waste thinking about aging, because I live only for my cause.
Brigitte Bardot's influence
Brigitte is recognized for popularizing bikini swimwear in early films such as Manina (Woman without a Veil, 1952), in her appearances at Cannes and many photo shoots. Brigitte Bardot also brought into fashion the choucroute ("sauerkraut") hairstyle (a sort of beehive hair style) and gingham clothes after wearing a checkered pink dress, designed by Jacques Esterel, at her wedding to Charrier.

The fashions of the 1960s looked effortlessly right and spontaneous on her, and she joined Marilyn Monroe and Jackie Kennedy in becoming a subject for Andy Warhol paintings. Brigitte Bardot is the style icon!
In addition to popularizing the bikini swimming suit, Bardot has also been credited with popularizing the city of St. Tropez and the town of Buzios, Brazil, which she visited in 1964 with her boyfriend at the time, Brazilian musician Bob Zagury. Bardot's notoriety popularized Buzios. There is a statue by Christina Motta of Brigitte Bardot in Buzios, Brazil in honor of her influence in popularizing the city.
Beatles
Brigitte Bardot was idolized by young John Lennon and Paul McCartney.
When the Beatles filled in their biographical 'lifelines' for the New Musical Express in 1963, under 'Favourite Actresses,'
Paul wrote: Brigitte Bardot
George wrote: Brigitte Bardot
Ringo wrote: Brigitte Bardot
John wrote: Juliette Greco, which is surprising, because of the four it was John who was most fanatical about Brigitte Bardot.
They made plans to shoot a film featuring The Beatles and Bardot, similar to A Hard Day's Night, but the plans were never fulfilled.

Lennon's first wife Cynthia Powell lightened her hair color to more closely resemble Brigitte, while George Harrison made comparisons between Brigitte Bardot and his first wife Pattie Boyd, as Cynthia wrote later in A Twist of Lennon.
John Lennon and Brigitte Bardot met in person once, in 1968 at the Mayfair Hotel, introduced by Beatles press agent Derek Taylor; a nervous Lennon took LSD before arriving, and neither star impressed the other. (Lennon recalled in a memoir, "I was on acid, and she was on her way out.")
Pete Shotton, John's school friend, told me that Brigitte Bardot was John's favorite fantasy figure when they were at Quarry Bank school.
"For the next fifteen years, at least, Brigitte Bardot was to remain John's favourite girl," he said.
John used to have a framed photograph of Brigitte Bardot on the wall of his house in Kenwood, and he finally got to meet his dream girl in 1968. Shotten said that John told him,
"I was so nervous that I dropped some acid before we went in and got completely out of my head. The only thing I said to her all night was 'Hello,' when we went to shake hands with her. Then she spent the whole time talking in French with her friends, and I could never think of anything to say."

John Lennon
Paul and John regarded Brigitte Bardot as 'the epitome of female beauty.' They compared every girl with Brigitte and had encouraged their girlfriends to look like her, John with Cynthia and Paul with Dot Rhone.
Bob Dylan
According to the liner notes of his first (self-titled) album, musician Bob Dylan dedicated the first song he ever wrote to Brigitte Bardot.
He also mentioned her by name in "I Shall Be Free", which appeared on his second album, The Freewheelin' Bob Dylan.
She dabbled in pop music and played the role of a glamor model. In 1965 she appeared as herself in the Hollywood production Dear Brigitte (1965) starring James Stewart.
Alain Gourdon
In 1970 the sculptor Alain Gourdon used Brigitte Bardot as the model for a bust of Marianne, the French national emblem.


Politics and Legal Issues
Brigitte Bardot expressed support for President Charles de Gaulle in the 1960s. Her husband, Bernard d'Ormal is a former adviser to the far right "Front National" party.
Bardot has been convicted five times for "inciting racial hatred."
In 1997 she was fined for her comments published in Le Figaro newspaper.
In 1998 she was convicted for making a statement about the growing number of mosques in France.
In a book she wrote in 1999, called "Le Carre de Pluton" (Pluto's Square), she criticizes the Muslim festival of Eid el-Kebir where sheep are ritually slaughtered. For the comments, a French court fined her 30,000 francs in June 2000.
In a 2001 article named, Open Letter to My Lost France, she said:
"…my country, France, my homeland, my land is again invaded by an overpopulation of foreigners, especially Muslims."
In her 2003 book, A Scream in the Silence, she warned of the "Islamicization of France", and said of Muslim immigration:
In the book, she goes on and talks about her homosexual friends, and said today's homosexuals:
"jiggle their bottoms, put their little fingers in the air and with their little castrato voices moan about what those ghastly heteros put them through"
She says French politicians are:
"weather vanes who turn left or right as the fancy takes them… Not even French prostitutes are what they used to be"
She says modern art has become:
"shit — literally as well as figuratively."
In May 2003 the Movement Against Racism and for Friendship between Peoples announced they would sue Brigitte Bardot. The "Ligue des Droits de l'Homme" (The Human Rights League) announced they were considering similar legal proceedings.
In her defense, Brigitte Bardot wrote a letter to a French gay magazine, saying,
"Apart from my husband – who maybe will cross over one day as well – I am entirely surrounded by homos. For years, they have been my support, my friends, my adopted children, my confidants."
On 10 June 2004 Bardot was convicted by a French court of "inciting racial hatred" and fined 5,000 €, the fourth such conviction/fine she has received from French courts. The courts cited passages where Bardot referred to the "Islamisation of France" and the "underground and dangerous infiltration of Islam." Bardot's book also attacked "the mixing of genes" and compared her beliefs with previous generations who had "given their lives to push out invaders."
Bardot denied the "racial hatred" charge and apologized in court, saying:
"I never knowingly wanted to hurt anybody. It is not in my character.
In 2008, she was convicted of inciting racial/religious hatred about a letter she wrote, a copy of which she sent to Nicolas Sarkozy when he was Interior Minister of France. The letter stated her objections to Muslims in France ritually and cruelly slaughtering sheep by slitting their throats without stunning them first. She also objected to France's rapidly growing Muslim community trying to take over France and impose their culture, values, lifestyles, etc. on France and its native people. The trial concluded on 3 June 2008, with a conviction and fine of fifteen thousand Euros, the largest of her fines to date. The prosecutor stated that she was tired of charging Bardot with offenses related to racial hatred.
Other:
Chosen by Empire magazine as one of the 100 Sexiest Stars in film history (#9) (1995).
Ranked #49 in Empire (UK) magazine's "The Top 100 Movie Stars of All Time" list (October 1997).
Ranked #75 in Men's Health 100 Hottest Women of all Time (2011).
Retired from acting in 1973 at the age of 39 and has since been involved with various animal rights causes.
One of the leading animal rights activists in the world and the head of "Fondation Brigitte Bardot," which is a foundation dedicated to animal rights.
Recorded many popular songs in the 1960s and 1970s.
Breast cancer survivor.
Recorded a special audio performance for the classic "Velveteen Rabbit," produced by Pierre Patrick for Connecticut Family Theatre (2007).