Brigitte Bardot Look alike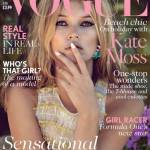 Kate Moss is looking very Brigitte Bardot on the cover of Vogue UK's June issue. The British supermodel enchants with teased hair and a smokey eye. She was photographed by Patrick Demarchelier for the June 2013 cover of Vogue, wearing a Christopher Kane silk-organza and PVC top.
Brigitte Bardot used her trademark waist length hair to full extent, piling it high on her head then letting it slip to her shoulders whether on the beach of St Tropez.
Brigitte Bardot lookalikes, as Claudia Schiffer and Kate Moss, attempt to imitate her style but no one comes close to the original blonde goddess.

Kate, La Moss, posing in a provocative Brigitte Bardot-esque fashion on the cover of Vanity Fair magazine.
Brigitte Bardot – beautiful without the fuss of primping. Kate Moss have it also.She's everything like BB: sexy gamine, rock chick, posh Brit and always disheveled. The Fashion industry can't get enough of them.
 
Credit to Vouge UK //