Brigitte Bardot Meets …Frankenstein
Hi-Life magazine, cover dated May 1959 – The Frankenstein Monster checks out Brigitte Bardot' – The author is Forry Ackerman.
In the May 1959 issue of HI-LIFE (Vol. 1 No. 5), one of the "For Men Only" magazines that existed at the time. Forrest J Ackeman' editing the first movie monster magazine of its kind, he was an author's agent and writer himself. The first issue of was published in February, 1958.
– FAMOUS MONSTERS OF FILMLAND MAGAZINE
Forrest´s feature was entitled, Frankenstein's Bebe? and was an imagining of a take on then white-hot international sex symbol Brigitte Bardot's famous movie re-titled, FRANKENSTEIN CREATED WOMAN. To no one's suprise, it is a humorous piece, laden with the FJA stylizings that were fast becoming his trademark. One look at the quote at the top of this post will tell you everything.
Frankenstein Monster checks out Brigitte Bardot's assets in a photomontage illustrating – a short humor piece? Forrest Ackerman imagines a movie where the barely articulate Frankenstein Monster builds his own mate.
Frankenstein's Bebe?, "A virgin Brigitte," reads Ackerman's colorful prose, "burgeoning into a life of nubility, nude as the Marilyn Monroe calendar on September Morn as she lies supine on the operating table…" The Mad Doctor/Monster presses "a twitching ear to her bewitching poitrine to detect the first heartbeat."
Frankenstein Created Woman, 1967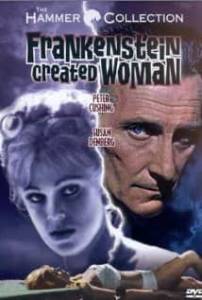 A dead and frozen Baron Frankenstein is re-animated by his colleague Dr. Hertz proving to him that the soul does not leave the body on the instant of death. His lab assistant, young Hans, is found guilty of murdering the local pub owner with whom he had an argument where he foolishly swore to kill the man and Frankenstein acquires his body immediately after the execution. Hans had been quite friendly with the dead man's daughter Christina who returns just in time to see him guillotined. Distraught, she commits suicide and is brought back to life by the good Doctor but with Hans' brain replacing her own. As memories return to her – Hans' memories in fact – she sets out to pursue and kill those responsible for having sent him to his death. Written by garykmcd
Baron Frankenstein has acquired the dead body of a young maiden, Christina, and all it lacks is the spark of life. He captures the soul of a recently executed young man and installs it in the young woman. With the memories from the young man still intact, she starts to kill the people whose false accusations led to the young man's execution. Written by Mattias Thuresson
IMDB Suorce
Published by James Warren and edited by Forrest J Ackerman, Famous Monsters of Filmland is a hugely influential movie magazine with an infectious love for horror, science fiction, and fantasy.